Atlantic Westchester was pleased to be recognized as a recipient for Westfair Communications' 2017 "Family-Owned Business" award. We had a great time celebrating along with the other honorees this past Tuesday!
Atlantic Westchester started as a mechanical contractor in Mt. Vernon in 1961. In 1979, Gene and Madeline Hammer purchased the company and focused on providing superior HVAC service, maintenance and system replacement to commercial, industrial and institutional facilities across the NY metro area. In 1987, the office moved to Bedford Hills where the company operates today. Gene and Madeline's son, Bud, spent his weekends, school breaks and summers growing up and learning the business. After college, Bud tried advertising and the automobile industry, but wound up yearning for the mechanical field. At 24, he entered the family business full-time. A few years later, his wife Lisa joined the business and they eventually bought the company from Bud's family.
Atlantic Westchester is currently owned and operated by Bud and Lisa. When the recession hit in 2008, they combined hard work, dedication and a renewed focus allowing them to grow substantially. Under the careful direction of Bud and Lisa, Atlantic Westchester has transitioned from a mom and pop style operation to a business with multiple departments and a growing team of highly skilled professionals. Bud and Lisa are committed to running an organization that treats every employee like a family member. They are passionate about educating their employees to become leaders in business and the HVAC industry. They continue to invest in their employees and have built a management team to sustain the business for many years to come.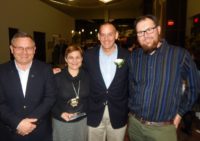 ---
---